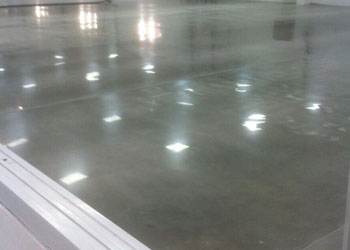 Polished concrete floors provide a smooth, mirror-like surface finish. The design choices for polished concrete are limitless. You can select practically any specific colour, design variations, or simply add aggregates or even unique objects into the concrete floor just before polishing. The light reflection on the surface area can be controlled by applying different levels of a concrete floor polishing. Our polished concrete flooring is the most suitable solution for a contemporary up-to-date overall look, which is perfect for an all-natural polished concrete appearance. Areas that polished concrete floor can be used include: retail outlets, art galleries, residential homes and commercial buildings. Polished concrete floors are in demand simply because they are very easy to maintain. Polished concrete floors require periodic maintenance like other flooring solutions, but the techniques used to clean these floors are the cheapest methods possible. Moreover, these floors last longer, at-least 20 years.
Decorative concrete such as polished floors has turned out to be the obvious alternative, as a result of the impressive benefits it offers, and this is because it can easily keep pace visually too. Easy To Clean Light Reflective Durable Hard Wearing Environmentally Friendly
The most typical places that polished concrete floors can be used include:
large storage warehouses
privately owned residences
office buildings
retail outlets
motor vehicle showrooms
restaurants and hotels
5 STEP CONCRETE POLISHING
A polished concrete floor has a glossy finish. Polishing machines (planetary with 3/4 heads) equipped with progressively finer abrasives resin disks are used to gradually grind down surfaces to the desired degree of shine and smoothness.