The International Surface Regularity Standards
The most accepted and widely implemented International surface regularity specifications and their properties are described as below:
| Country of Origin | Free Movement (FM) | Defined Movement (DM) |
| --- | --- | --- |
| Great Britain | Concrete Society's TR34 Table 3.1 | Concrete Society's TR34 Table 3.2 |
| Germany | DIN 18202 Table 3 Groups 3 & 4 | DIN 15185 Tables 1 & 2 |
| USA | ASTM E 1155 M – F numbers | F min numbers |
Flatness and Levelness Requirements (Surface Regularity)
There are essentially two methods for defining floor flatness requirements. Floors are divided into Free Movement Areas (FM) and Defined Movement Areas (DM).
The FM criteria is where trucks operate at low level when moving, such as marshalling areas, block stacking areas, and aisles greater than (>) 2.8m wide.
Free-movement (FM) area
In free-movement areas, materials handling equipment (MHE) can travel freely or randomly in any direction. Free-movement areas typically occur in outlets, low-level storage, marshalling zones and food distribution.
Defined-movement (DM) area
In defined-movement (DM) areas, vehicles use fixed paths. Defined movement areas are usually associated with high-level storage racking with very narrow aisles (VNAs) in warehouses. Narrow aisles in warehouses where materials handling equipment is move only in defined paths.
Free Movement - For Free Movement Floors as per TR34 Edition 4th 2013 Table 3.1
The TR34 specification is the most comprehensive method of specifying the surface regularity of free movement floors. It controls the short wavelength, Property F and the long wavelength, Property E and datum. The specification clearly defines how the floor should be sampled and analysed.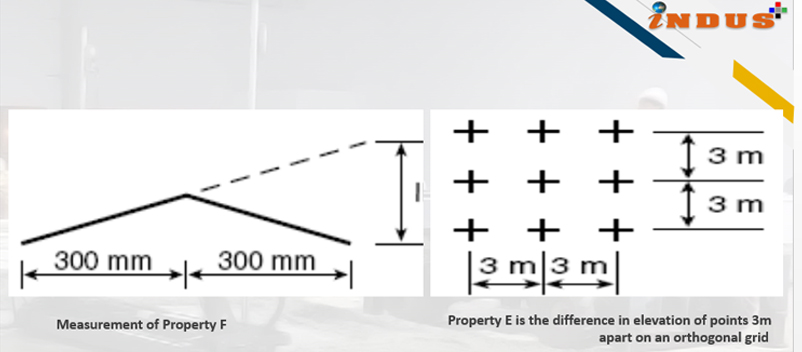 Table below shows the Free Movement classifications from TR34 4th Edition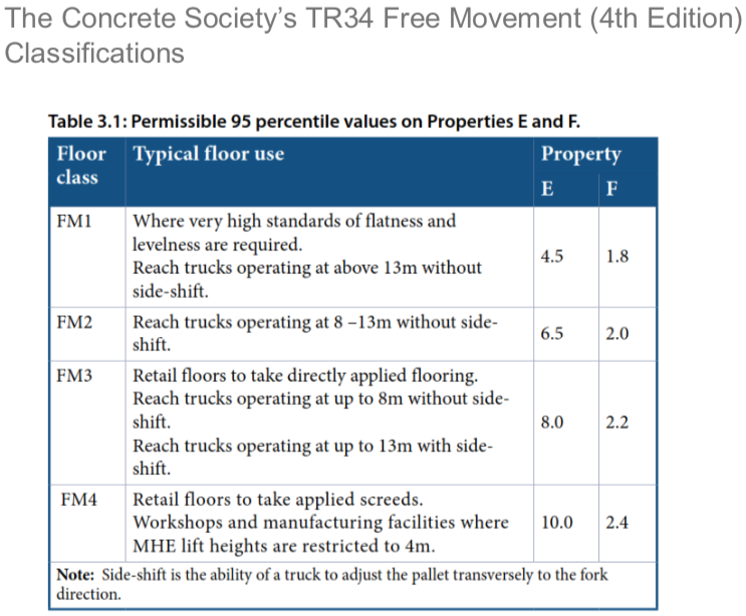 NOTE 1: The above values are permissible 95 percentile values for Properties F and E
NOTE 2: For all classifications, all points surveyed should be within 15mm from datum.
Surveying
A 3m grid of points is accurately set out on the whole of the floor area and elevations are taken on these points. The grid location should be recorded accurately so that the points can be revisited if subsequent level checks are needed. Areas within 1.5m of a wall, column or other existing structure are not surveyed.
Property E is measured between all adjacent survey points on the grid.
Property F is measured by third party with digital profile o meter and a report is submitted to ensure that we walk the talk.
Surveying techniques
Property E is measured using an Engineers Precise Level & Parallel Plate Micrometer and taking level readings to 0.1 mm accuracy or other method with appropriate accuracy. Property F is usually measured using specialist digital equipment.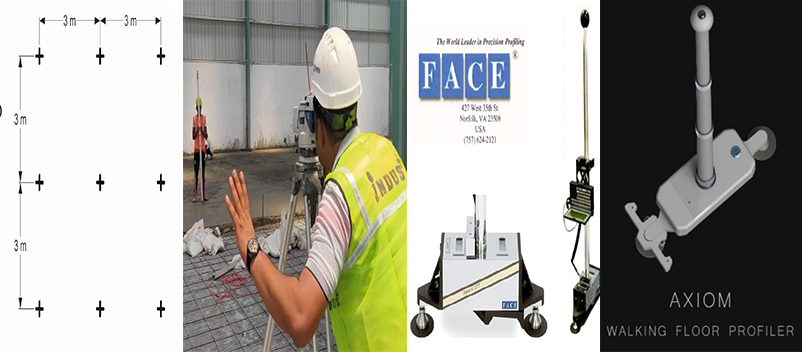 iNDUS+ Edge "Concrete Technologist
Concrete is the single most important component of the floor & high standards of finished floor depends on it. Get concrete wrong & no amount of logistics expertise, management planning, skill from the workers or accuracy of the specialist equipment used will make it right.
Professional concrete technologist are deployed at site for the mix design and controlling following parameters of RMC design
Workability
Compressive strength
Shrinkage
Rate and timing of bleed
Setting time
Concrete/aggregate grading curves
Fibre mixing
Quality of component materials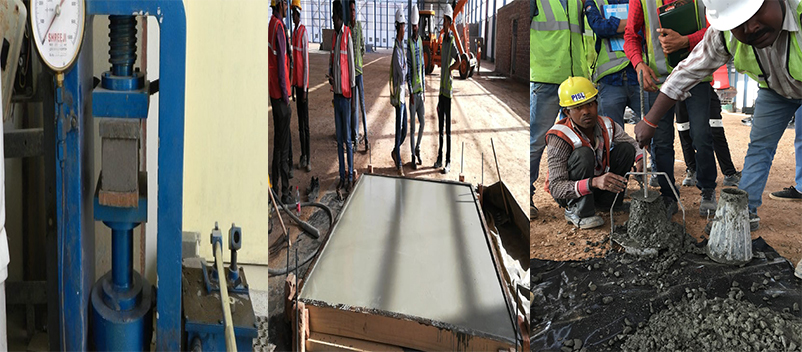 Concrete Quality Control
Concrete slump test at least twice a day.
Concrete Cube casting & Testing 7day & 28days
Temperature test of Concrete
All test and measuring results shall be submitted.