Installation of partitions and isolation joints
The purpose of installing I/J is to separate it from the foundation structure.
I/J shall use foamed polyethylene materials so it can move as the concrete expands and contracts.
The exposed part of foundation shall install a pad that is 10mm or thicker by FL± 0 of floor level.
The central foundation shall install a pad that is 20mm in thickness by FL± 0 of floor level.
The top of I/J shall be cut with a cutter after floor finish.
If gaps are created as the concrete contracts while curing, fill them with a sealant.

Installation of Diamond/Plate Dowel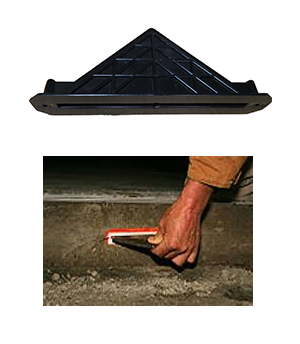 Joint activation and minimized cracking
Material optimization and savings
Construction efficiencies and tolerances
Reduced long-term maintenance costs
Superior joint stability
Allow free horizontal slab movement both parallel and perpendicular to the joint; eliminating restraint
Minimize stress concentrations on the slab and the dowel that can lead to joint spalling and random cracking
Increase load bearing capacity of the slab by eliminating the free-edge condition
Are an efficient use of materials (using steel only where you need it)
Are cost effective
Are easier to place, providing labor savings
Functioning of Diamond Plate Dowels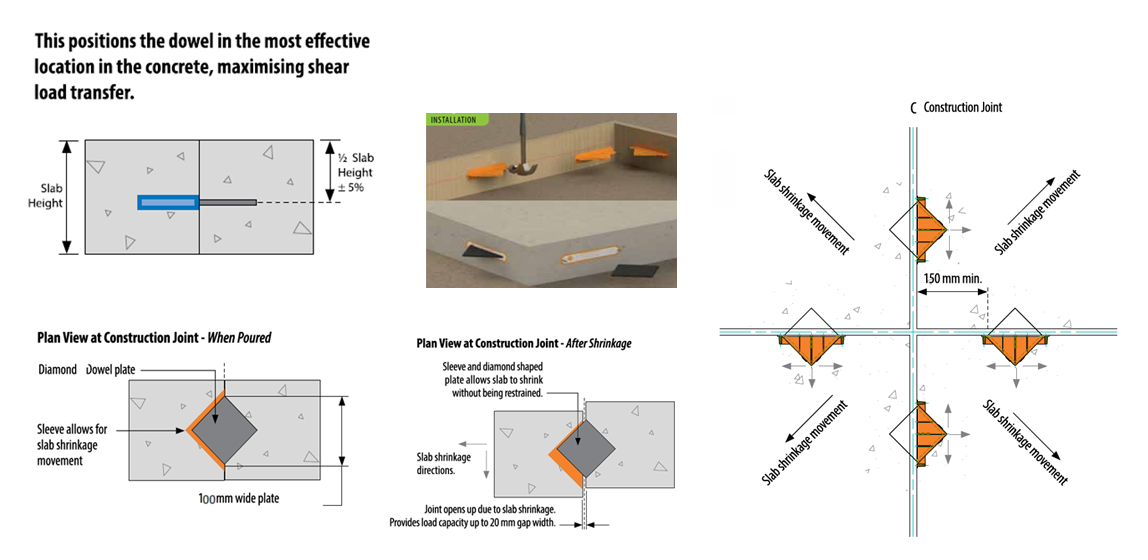 Installation of Armour joints
They act as a permanent formwork, creating a secure boundary or day joint during the concrete pour.
They allow the concrete slab to contract in a controlled way, to prevent random cracks occurring.
They protect the construction joint arrises from impact damage once the building is in use, saving the expense of repair.
They allow efficient load transfer between concrete slabs, for a stable and durable floor.
Sinus Joints
Sinus imported steel armour joint : Sinus imported steel armour joint from Europe of height 175 mm, available in length of 2.4 meter with dowel of size of 180 X 120 X 8 mm @ 600 mm C/C spacing for floors of depth upto 205 mm along with height fixing Jacks/ Stands.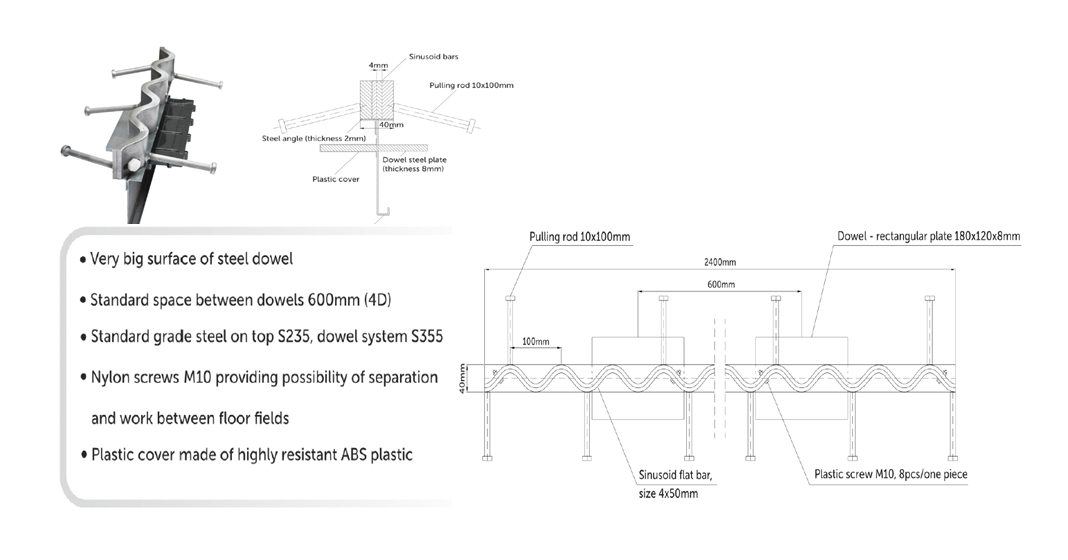 Aspect Ratio of Panels – Jointed/ Saw Cut Floor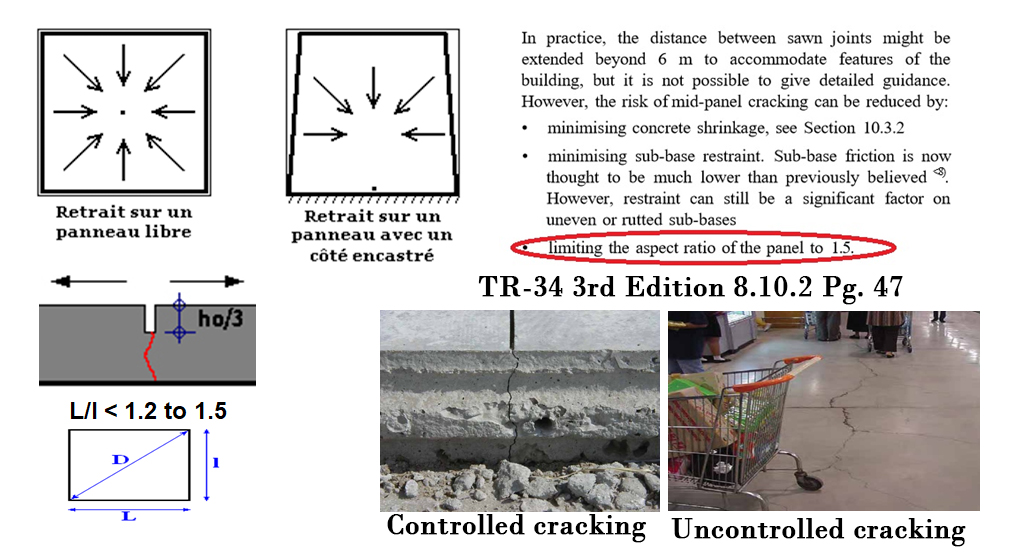 Laying Steel mesh,8mm dia. @ 150-200MM C/C spacing.
Steel mesh of size 3x4M, shall be layed in single or double layer( as per design) in both the directions by cover blocks of 4050mm size at the bottom or making use of rebar chairs for the top reinforcement.
The joints of steel mesh shall overlap by 300mm or 4D where D is the diameter of rebar( whichever is larger).
Steel mesh shall be installed 50mm above the floor using a spacer
Mockup Patch
| | | |
| --- | --- | --- |
| Sub-base Level Bleeding & segregation of concrete. | Setting time of concrete. | Finishing time of concrete. |
| Hardener application timing & behaviour (3 - 4 Hrs.). | Admixture Quantity Adjustment | |
Pouring Concrete
Concrete is poured using a truck mixer or a concrete pump.
It shall be poured continuously without stopping for each unit to prevent cold joint.
The slump shall be maintained consistently as decided with a test mix.
The thickness of concrete shall be accurate according to the values in the drawings.
Leveling after pouring concrete shall use Power Rake.
The use of Power Rake shall satisfy the levelness of flooring.
The levelness of floor finish shall refer to TR34 FM2 4th Edition
The levelness of floor surface shall be checked constantly while using the Laser Screed to satisfy standard levelness.
Pouring & Screeding
Concrete is being laid to level along with high degree of flatness by large line Laser Screed Machine with telescopic boom of 6.1M and augur. Dry shake hardener is spread by making us of semi mechanize topping spreaders @4kg/M2 followed by further surface finishing by imported flattening tools like bump cutters and highway straightedge. Final surface finish is delivered by making us of power floaters and ride on trowels by making us of state of the art adjustable form work (wooden shuttering with an angle"L")
Use of imported flattening tools like magnesium key hole bump cutters

Dryshake Hardener Topping
Dryshake Hardener materials shall be based on renowned manufacturer like BASF/SIKA/Euclid chemicals.
Dosage of materials shall be between 3- 5kg/㎡.
Dry shake hardener shall be applied using a mechanical spreader (2~3kg/M2 the first time, 2~3kg/M2 the second time).
A 70-90kg pan-type finisher shall be used for primary floating to prevent any unevenness of surface after a certain period of time.
Primary Floating of Concrete Surface
Final Finish of Concrete Surface by Ride on Trowel

A 70-90kg single-footed finisher with a metal alloy disc is used for the floating work of concrete surface.
All sections shall be finished at the same rate so there is no unevenness of surface.
Flatness shall be corrected after checking the level while floating

A 300㎏ or heavier double-footed finisher with a 4-angled wing-type steel plate is used for the finishing work of concrete surface.
Even gloss shall be created by controlling speed and intensity.
Do not overdo it, but finish at the right time.
Curing with Plastic Sheet
Curing compound & Covering & walking

Once finisher and curing compound application are done after pouring, safety bands shall be installed to restrict access into the poured zone and the concrete shall be covered.

Gentle walking is permitted 7 days after finishing and the use of heavy materials is permitted after 28 days.

Apply curing chemical compound, to minimize cracking due to contraction while curing and prevent dust after finishing SFRC.

Curing compound shall be applied within 12 hours of pouring and finishing.